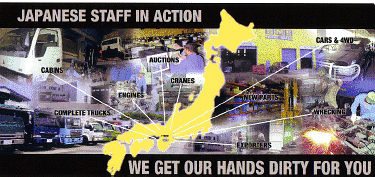 How do you ship the truck that I buy?
We have a warehouse on our premise where we are able to cut, package, and prepare the vehicles that we are shipping. This means that after we source the item, we can do whatever is appropriate to prepare it for shipment. Shipping generally means using a 20 normal height or 40 ft. High-Cube container. Normally a 40-foot container can carry 5 half-cut cabins or a mixture of engines and cabins. It is also possible to ship complete 2-ton or 4-ton trucks by driving them directly into the container and securing them.
We can also palletize shipments of new parts or special order items for the most economical shipment in the event that your order does not fill a container.
Thatís great for trucks, but what about the car that I want to buy?
SMS Diesel Spares Japan ships cars directly from the point of purchase to our secure warehouse. This ensures that the vehicle is protected while the export paperwork is being processed. From this point the vehicle is loaded onto a Roll-on Roll-off ship for delivery to the port nearest you. If a RO-RO service is not available in your area, we will containerize the vehicle and secure it before shipping.
What about rusting on the vehicles you see?
Every winter the Kansai region, of which Osaka is a part, receives limited snowfall. Because of this salt and other corrosive chemical use is limited. Consequently, there is little rusting due to salt. Of course as any vehicle gets older, the possibility of corrosion increases, but generally we donít see rust as a big problem in choosing the vehicles that we purchase for export.
What currency do you use?
All quoted prices and transactions are in U.S. Dollars.