Our Personalized Service Will Grow Your Business
Thatís the SMS Difference!
How Do We Get Started?
The process is simple and pretty straightforward. It begins with you contacting us either by e-mail, fax, phone, or letter at the following address:
SMS Diesel Spares Japan
7-1-23, Mukonoso
Amagasaki
Japan 〒661-0035

Phone # 81-6-6423-8771

Fax# 81-6-6423-8772

E-mail: sales@smsdiesel.co.jp
After contacting us, we will help you decide on the right vehicle or product that meets your needs, and help you decide on a buying price range.
You need to deposit 30% of this agreed-upon price in our bank account via telegraphic transfer (TT). Or you can establish an irrevocable Letter of Credit (L/C) for 100% of the agreed upon amount.
Once we have received this deposit, we will source the product and working hand in hand with you, purchase the item. One of our staff will contact you directly when we have found a vehicle that meets your requirements, and tell you about the vehicle so that you can ask specific questions and allay any concerns you might have. If there is time available, we will send you digital images of the product.
After purchase, we will send you digital high-resolution pictures and an invoice for the balance of payment. If we have managed to purchase the item for less than your budgeted price your invoice will reflect the discounted price. If we have had to pay a little more than the budgeted price it will reflect that as well.
After receiving the balance of payment, we will cancel the Japanese vehicle registration, if necessary, and complete the arrangements for shipment to your destination. Depending on the product, we do this either by using Ro-Ro vessels or by shipping in a container. Several times a month, vessels depart the Osaka area making stops all around the globe.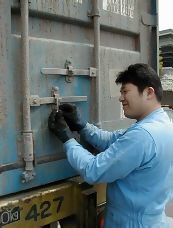 See it is really very simple!